FAQs
FAQs
WHAT IS THE CONTACT INFORMATION OF MADAME FIFI PUBLICATIONS?
P.O. Box 310194, Newington, CT 06131 860-270-0558 Fax 860-270-0559
WHO IS THE PRESIDENT OF THE COMPANY? Sue Fenton, M Ed
WHAT IS YOUR COMPANY'S FEDERAL TAX ID NUMBER? EIN 65-1229681
WHEN DO YOU SHIP THE ORDERS? We make every effort to ship within 2 days (48 hours) or less.
HOW LONG HAVE YOU BEEN IN BUSINESS? For 18 years.
HOW CAN I PLACE AN ORDER? There are 3 ways:
1) Order online with a credit card via our secure Pay Pal shopping cart.
2) Order with a school's PO (Purchase Order.) The terms are net 30-days. PO's may be mailed or faxed to 860-270-0559.
3) Send a check or money order with a printed order blank to Madame Fifi Publications. Allow 3 days for checks to clear before your order is shipped.
WHAT IS YOUR MAILING ADDRESS ? Madame Fifi Publications PO Box 310194 Newington, CT 06131
WHAT IS YOUR FAX NUMBER? 860-270-0559
WHAT IS YOUR PHONE NUMBER? 860-270-0558
DO YOU ACCEPT CREDIT CARDS? Yes, via the well-known secure and safe website, Pay Pal. We have worked with PayPal for 16 years and with no problems. NOTE: Shipping will be added to your order before it is sent to Pay Pal for processing.
HOW DO YOU SHIP YOUR ORDERS? For individuals ordering online or via mail order, we ship via the U.S. Post Office, Priority Mail (about 2-3 days.) For schools, libraries, and other institutions using PO's or for large orders, we ship via UPS.
WOULD YOU SHIP "COLLECT" USING SCHOOL OR COMPANY'S UPS OR FED EX ACCOUNT NUMBER THAT WAS PROVIDED? Absolutely. Please provide it on the PO.
WHAT ARE YOUR SHIPPING FEES? These fees apply to orders shipped in the United States. For international orders, you will be charged an amount below, but will then receive an e-mail with the additional amount required for your international shipment. You may send the difference via Pay Pal (to Sue Fenton, mmefifi3@aol.com,) and your order will then be shipped.
$0.01 - $40.00 $6.50
$40.01 - $70.00 $7.95
$70.01 - $90.00 $8.95
$90.01 - $100.00 $10.95
$100.01 - up $13.95
For the shipping fee of orders over $200.00, please e-mail us. mmefifi3@aol.com. Non-Pay Pal processed orders (PO's, mail orders, etc.) are usually sent via UPS ground.
WHAT IS YOU PRIVACY POLICY? Any information provided by customers to Madame Fifi Publications is solely for the purpose of ordering and shipping. E-mails addresses are kept for an occasional contact about new materials or website features. No information provided on the Madame Fifi Publications web site is shared with any third party. (Any information you provide to Pay Pal is between you and Pay Pal. Madame Fifi Publications does not receive any of your private information from Pay Pal.)
DO YOU HAVE A REFUND POLICY? Books and materials in good re-sellable condition may be returned within 30 days. That is Pay Pal's policy on refunding as well. If the materials are not in good condition, the refund cannot be granted.
Thank you for your visit!
Time Flies
"Sue - Creativity just pours from you! I feel so inspired & challenged by your ideas & philosophy of teaching…a pleasure to host you! " Heather Tarpley, Former Treasurer, AATF, AR
NEW!
"I have used 'Madame Fifi' products for years with great success." Angela Shropshire, Boiling Springs, SC
"…Sue Fenton makes it easy to have your students speaking in the target language because she gives you everything to get started. Selena Shade Jimenez, AP Central.com reviewer
"Madame Fifi's teaching materials bring vitality and authenticity to the language classroom. Her creative approach...with an emphasis on oral communication will...have (students) using the target language immediately." J. Powell, NJ
Shop With Confidence!
PCI Compliance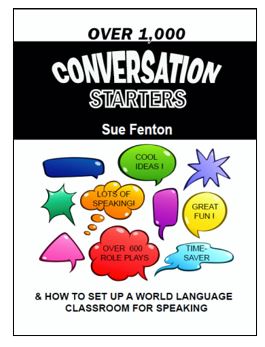 Your header in Here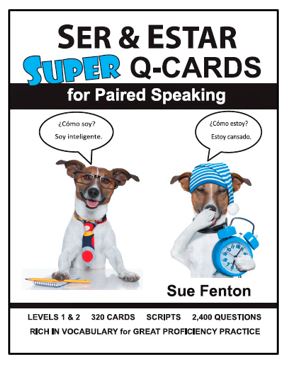 Your header in Here