Professional Workshops
PROFESSIONAL DEVELOPMENT WORKSHOPS
By Sue Fenton. M Ed., Speaking Specialist for over 18 years
"I believe all FL teachers should attend this workshop. Thank you, Sue."
"Contagious enthusiasm! Very inspirational! Tons of ideas...left me hungry for more, more, more!"
"...best developmental day we have had in years."
"Sue, creativity just pours from you! I feel so inspired and challenged by your ideas and philosophy of teaching. It has been a pleasure to host you!" Heather Tarpley, AATF Treasurer, Arkansas Chapter."
ABOUT THE WORKSHOPS
These high quality motivating workshops, packed with ideas, are 3 hours. Some have a 5-hour option for an all-day event. Two workshops may be combined for one or two days. The workshops are very enjoyable as well as informative with colorful illustrated slides, music, humor; and spiced with online visits. Examples: in many languages. Who can sponsor a workshop? a school, a district, 2 or more districts can co-sponsor, an association. Just contact me to schedule a workshop or to discuss a plan that works for you!
WORKSHOP TOPICS for 2016
1. SETTING UP A CLASSROOM WITH SPEAKING AS THE PRIORITY 3-Hours: How to create a classroom that has speaking as a priority. Topics include: creating the environment; student expectations; why speaking must be THE priority; room set-up and ambiance; materials; strategies; day 1 immersion lesson; paired speaking and the procedure; individual and group speaking; anatomy of a real-life task-oriented conversation stimulus; assessment, and more. 5-hours: After lunch, there is a hands-on session to practice the strategies (creating your own speaking stimuli) and a chance to share ideas.

INCREASING SPEAKING ACROSS THE CURRICULUM 3 hours Speaking has not been a priority in education. Education must empower students with the speaking skills and confidence to interact with others at home, at school, at jobs, in business dealings, and in the public arena. This workshop illustrates how to make speaking a priority; how to infuse lessons with speaking; how to create speaking stimuli from any course content; how to start with partner speaking and then gradually more to more challenging group and higher-level thinking tasks.

LESSONS DRIPPING WITH SPEAKING 3-hours: A look at the various aspects of a lesson and how you can turn them into conversations. Review, applying new material in conversations; video clips; literature; text dialogues; photos; re-caps. Make a whole lesson come alive with speaking. How to use creativity, imagination, and the 5 senses in speaking stimuli. And more. 5-hours: After lunch, there is a hands-on session to practice the strategies (creating your own speaking stimuli) and a chance to share ideas.

INTRODUCTION TO VIRTUAL RESIDENCE LANGUAGE™ - Live in a World City for the Year. Students move into their own apartments in Paris, Tokyo, Berlin, Madrid, Rome, Damascus, Bejiing, Mexico, DF, etc. for the year to learn the language. Topics include: the missing course premise; the rationale; a description; the steps for setting it up; how to use VRL with any text and curriculum; the experiential component; making language more authentic and relevant; speaking in real-life tasks all over the city - strategies; plugging into the Internet to make the city and the language and residence come alive; strategies to keep VRL going all year; what VRL looks like on a daily basis.

VIRTUAL RESIDENCE LANGUAGE™ - Applying It To Your Text Setting Up a Virtual Residence Language™ Course in a World City A hands-on consulting workshop with sessions using computers to get started. Teachers bring copies of their texts and curricula and work with others who have the same text. They choose a chapter and we'll discuss how to present the material "fit" in a VRL course. They will brainstorm in groups city contexts for presenting the material and be able to create some paired conversation stimuli to apply the material in the city. In a computer lab (or we can use notebooks,) teachers will search the Internet for preliminary culture visuals and websites that relate to the chapter. By the end of this workshop, participants will have learned how to present any chapter using VRL. Note: A VRL course does NOT require a computer lab. As long as there's one computer online in the classroom, VRL can be a reality. If there is a SMART Board or a projector with a screen thats even better!

MOVE YOUR STUDENTS TO PARIS A must for French teachers! Teach on location in Paris; not from the book. This workshop will show how to set up a Virtual Residence Language course in Paris and how to apply all text material and speaking all around Paris. Each student lives in his or her own apartment in Paris. This workshop will re-energize French teachers and give their entire course a PREMISE. This method will also get students excited and see French in the real world. Perfect for French departments, district French teachers, or AATF Chapters. (See endorsement in the box above.)

TEACHING LANGUAGE THRU SONGS This workshop is based on "You Played a Song. Now What?" and will have examples in French and Spanish, though teachers of any language teacher can benefit. Topics include: the value of songs; syntax patterns; vocabulary; steps to learning a song; strategies for playing the song again and again in a new way; multi-dimensional strategies for introducing and using songs will be presented. Teachers will learn how to create speaking activities and paired conversation situations with songs. Includes a teachers&rsquo song swap.

USING OH LÀ LÀ - SING YOUR WAY TO FRENCH This is based on the 2-album series created by Sue Fenton, C.C. Couch, and Teddy Irwin. Topics include: how to present the songs; speaking activities; culture ideas; games; presentations up front; song kudos; teaching grammar thru the songs; springboard to more theme vocabulary; and many others to maximize the use of these vocabulary-rich songs for teaching French. (NOTE: These are not "baby" songs but rather songs for older students that are rich in conversational French and culture. They were produced by an Emmy-award-winning producer and composer who has composed music for TV and films and who has played with over 30 artists in the studio including Jimmy Buffet. These albums were endorsed by Bob Dorough who was the musical director for ABC TV's Schoolhouse Rock. CONTACT Sue for more information and fees.
CONTACT SUE TO SCHEDULE A WORKSHOP!
Time Flies
"Sue - Creativity just pours from you! I feel so inspired & challenged by your ideas & philosophy of teaching…a pleasure to host you! " Heather Tarpley, Former Treasurer, AATF, AR
NEW!
"I have used 'Madame Fifi' products for years with great success." Angela Shropshire, Boiling Springs, SC
"…Sue Fenton makes it easy to have your students speaking in the target language because she gives you everything to get started. Selena Shade Jimenez, AP Central.com reviewer
"Madame Fifi's teaching materials bring vitality and authenticity to the language classroom. Her creative approach...with an emphasis on oral communication will...have (students) using the target language immediately." J. Powell, NJ
Shop With Confidence!
PCI Compliance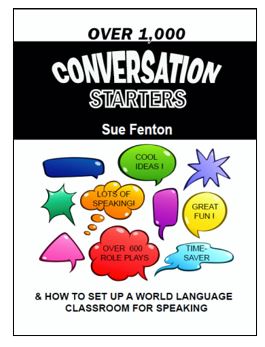 Your header in Here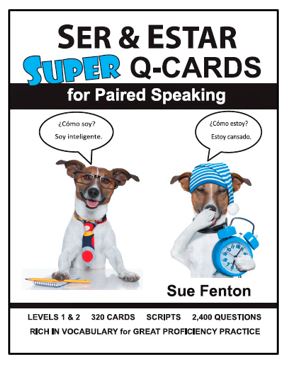 Your header in Here