Endorsements
GENERAL
"Talk about energizing! Sue Fenton could probably light the whole city of New York for a year! Her ideas will certainly power my classroom from now on." Amy E. Kuiken, MA
"Sue - Creativity just pours from you! I feel so inspired & challenged by your ideas & philosophy of teaching…a pleasure to host you! " Heather Tarpley, Treasurer, AATF, AR
"I have used the 'Madame Fifi' products for years with great success." --Angela Shropshire, FL Department Head, Boiling Springs H.S., SC
"Madame Fifi's teaching materials bring vitality and authenticity to the language classroom. Her creative approach...with an emphasis on oral communication will...have (students) using the target language immediately." J. Powell, NJ, formerly with the NJ Association of Independent Schools
BOOKS
"This is truly one of the best conversation books that I have ever seen, at the college or high school level…" Dr. Ben Coates, AP Institute Instructor/Reader; Gardner-Webb University, Boiling Springs, SC (re: Over 1,000 Conversation Starters")
"I already have your 'Over 1,000 Conversation Starters' and have used it nearly every day since I bought it." - Amy A.
"..tools every teacher needs…an amazing array of activities and ideas... I keep this book close by my desk…one of the resources that I use the most…. reenergize both your students and you with minimal effort." - M. Jennifer Bonn, GA, "The French Review," AATF, May 2003
"Communication Handouts …constitutes something like a phrase book or thematic vocabulary book of up-to-date French, but much more fun and stimulating than any such book--a great way to encourage students to express their imaginations in French. This book is useful in so many ways… teachers are bound to use it to good effect frequently. It's a goldmine of French vocabulary."
--Contee Seely, Author of TPR and TPR Storytelling books, Command Performance Language Institute, Berkeley, CA
"The French Chat Boosters" communication handouts by Sue Fenton has been one of my BEST RESOURCES and cannot live without it...I keep that book in my briefcase at all times." Kay Romero, Colorado Springs, CO
"I love this book! It is filled with ideas which can be adapted to any lesson and any level. I refer to it often for fresh ideas." Jan Hendrie, Grosse Pointe, MI
"My new best, most treasured teaching resource." E. Braman, PA (re: "Spanish Chat Boosters")
"Over 1,000 Conversation Starters" …have loved it…changed the way I teach and thoroughly motivated me…" Hillary, CA
"…Sue Fenton makes it easy to have your students speaking in the target language because she gives you everything to help you get started. - AP Central.com Selena Shade Jimenez
WORKSHOPS
"Sue's workshop is the best developmental day we have had in years." Maria DiVirgilio, Wallingford, CT
"By far, the most beneficial FL workshop I have attended." Isabelle Baker, SC
"I believe all foreign language teachers should attend this workshop. I believe that these ideas will change my whole approach to my teaching of French. Thank, you, Sue." Teacher, SC (preferred to withhold name)
FRENCH SONG CDs
"These are the best songs on the market for teaching French." Susan Hoffman-Wells, Roseville, CA
I have been teaching for 28 years and the 'Oh Là Là" songs are the best addition to the curriculum at the Hume Fogg Magnet H.S. we have ever made." (retired, M. Murphree, Nashville, TN )French 1-4AP)
"Voilà! Even I can speak French…with these 'lessons.' The team of Fenton, Couch, and Irwin has produced a delightful CD that is both instructive and entertainin. You'll be singing French in moments – IF you can stop dancing. Sing your way to French. Highly recommended." Bob Dorough, Musical Director, ABC-TV's School House Rock
"Our students love Sue Fenton songs. Year after year they ask to sing them again and again! Her songs include chunks of language that are authentic and useful. There is a ton of great material in each song, and we often create whole units around one song! Thanks, Sue!" Elizabeth Roberts and Denise Clivaz - K-8 French teachers, The Avery Conley School, Downers Grove, IL
Time Flies
"Sue - Creativity just pours from you! I feel so inspired & challenged by your ideas & philosophy of teaching…a pleasure to host you! " Heather Tarpley, Former Treasurer, AATF, AR
NEW!
"I have used 'Madame Fifi' products for years with great success." Angela Shropshire, Boiling Springs, SC
"…Sue Fenton makes it easy to have your students speaking in the target language because she gives you everything to get started. Selena Shade Jimenez, AP Central.com reviewer
"Madame Fifi's teaching materials bring vitality and authenticity to the language classroom. Her creative approach...with an emphasis on oral communication will...have (students) using the target language immediately." J. Powell, NJ
Shop With Confidence!
PCI Compliance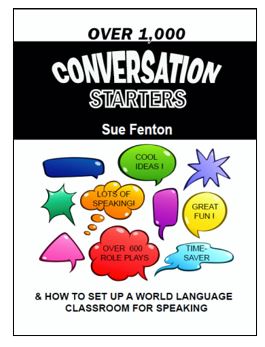 Your header in Here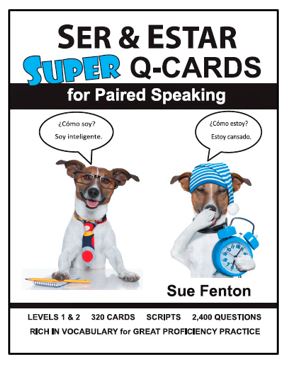 Your header in Here